Ask Skippy # 25 - Plastic (Or Fantastic?)



Released:

April 23, 2011

Views (Approximate):

4,000+

Series:

Franchise:

Misc.
"
Ask Skippy # 25 - Plastic (Or Fantastic?)
" is the 25th episode of
Ask Skippy
.
A user called DALLOWMALLO111 writes to Skippy and asks, "SKIPPY... ARE YOU MADE OF PLASTIC? OR ARE YOU FANTASTIC?". Skippy tells DALLOWMALLO111 not to call him plastic and asks if he is talking to him since there is nobody else in there. Skippy asks again if he is talking to him and tells DALLOWMALLO111 that no part of him is plastic, except for his eyeballs and his shoes that are plastic. Skippy asks DALLOWMALLO111 if he is calling him plastic and tells him he is not plastic and asks if he looks like an action figure to him.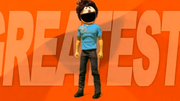 The scene cuts to an advertisement featuring a Skippy action figure, with the words "THE GREATEST ACTION FIGURE IN THE WORLD" sliding behind him and being sung.
Surprised by this, Skippy gasps and says that was beautiful and that he wants one of the Skippy figures since it is pretty cool. He says to imagine him playing with a little action figure Skippy. He says that toys could be going around and killing everybody or other "stupid action figure" like He-Man, She-Ra, and even Bob's Big Boy. This cuts to a large screenshot of Bob's Big Boy, with a short record scratch and a scream heard in the background. Now scared, Skippy changes his mind and says he will never have action figures in his life. Skippy says he is not giving any of the viewers permission to have a little version of him in their bedroom while they play around and their dog chews on it. Skippy shouts out that he is Skippy Shorts and has a fit while demanding not to make him a plastic toy since he is himself and not a toy. He then shouts, "STUPID!".