Christmas Song-Clawverbro Style



Released:

December 19, 2008

Views (Approximate):

5,000+

Series:

Franchise:

Misc.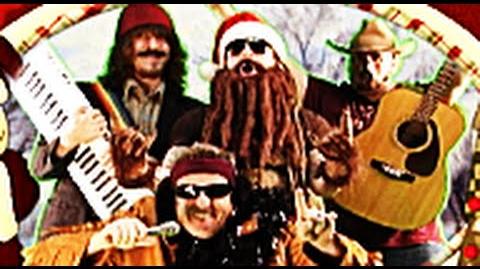 Write the text of your article here!
One winter morning, a grey-colored creature is singing a Christmas carol to himself. Soon, Jimbo appears and asks the creature, whose name is Stanley, what he is doing and Stanley (whose high-pitched voice has now changed to a deep-sounding voice) tells him he is listening to the all-new band Clawverbro, which amazes Jimbo. Stanley tells his friend he has Clawverbro's new music video on his iPod, which once again amazes Jimbo. Stanley proceeds to take it out and tells Jimbo to watch.
The scene goes to the music video, in which they sing a Christmas song about a killer Santa Claus as the lyrics appear below:
HE'S COMING DOWN THE CHMINEY
BUT HE AIN'T BRINGIN' GIFTS
HE'S GONNA CHOP YER HEAD OFF
AND THROW IT IN A DITCH
YEEEEEEEEEEEEEEAAAAAAAAAAAAAAH!
PEOPLE CALL HIM SANTA THAT'S NOT HIS REAL NAME
HE'S GONNA KILL YOUR PUPPY
CAUSE SANTA IS INSANE!!!!!!
HE'LL STAB YOUR LITTLE KITTY
HE'LL STOMP ON YOUR PET MOUSE!
YOUR IMAGINARY FRIEND IS GONNA DIE
WHEN HE BURNS DOWN YOUR HOUSE!
Right as the song finishes, the lead singer says calmly, "Merry Christmas!" as a Christmas card with Clawverbro on it appears onscreen and ends the episode.