SkippyClips #1 - Scary Mozart



Released:

September 6, 2008

Views (Approximate):

9,000+

Series:

Franchise:

Misc.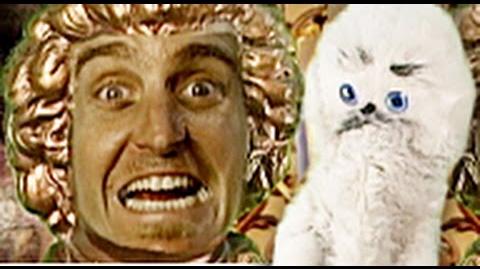 "
SkippyClips #1 - Scary Mozart
" is the 1st episode of
SkippyClips
.
Finney is yelling at a statue of Wolfgang Amadeus Mozart, telling him to stop. Then he is shocked and tells the statue that it is a "horrible, mean, man-thing". Then he tells him again to stop and repeats this as he begins to freak out.
Just then, the statue turns around and Skippy comes in and asks Finney what is going on. Finney tells Skippy that the statue was in a different position and was talking to him. Skippy is confused and asks Finney what he is talking about and Finney says that the statue lives. Skippy declines this, saying that Mozart is dead and that is why they made the statue of him. Finney insists the statue is alive and is going to eat him. Skippy doesn't believe this and begins to tap the statue to see if it is alive, to no avail. Finney says that it is going to eat him. Skippy says that sometimes, he thinks that Finney was just born to waste his time and that he is good at it. He sarcastically thanks Finney and says he was just having the biggest pile of nachos with veggie sauce all over it and watching his favorite TV show, followed by Finney calling him over a golden statue that is sitting there staring off into space and Finney is scared of it. Skippy bets that the people who run the haunted houses at Halloween time love Finney. He says that he is going to go eat his nachos and to not call him. He begins to walk off, but then turns around twice to ensure Finney will not call him, then finally exits.
Right after Skippy left, the statue turns around to face Finney, revealing that it is alive after all as it grows a human face. It tells Finney that he has now made him angry. It says it is going to watch Finney sleep and might chop off his head. It tauntingly asks Finney if he is scared and says that he should be. The statues says it will murder Finney and make it hurt. It says it is going to have fun living here and laughs evilly. Then the statue tells Finney to dust it until it is clean. Finney shouts, "Oh, my goodness!" and faints.
The episode then ends.